We know how hard it is nowadays to choose stuff, especially in areas where you do not really care. You just want hot water coming out of your water tap. We hear you.

There are a lot of complex guides out there. It is harder to write a simple and short text than a long one, trust me.

At Klugit Energy we always have time to make your life easier and cut down on the B.S.
---
Here's a 1 min read on how to select your electric water heater:

1. Choose the capacity of your water heater (how many litres)

If only exceptionally you run out of hot water and if you have no plans to expand your family then just stick with the current capacity.

Otherwise here is a quick help:

One person: 50L
Two people: 80L-100L
Three people: 120-150L
Four to five people: 200L

Make sure that new tank fits the space where you plan to install it. Bigger capacities bigger sizes.

2. DON'T waste time choosing the power of your water heater

Unlike buying a vacuum cleaner, a fridge or an AC, where you need to choose how powerful you need it to be, in electric water heaters it is pretty standard:


50L to 80L: 1500W
Above 80L to 200L: 2000W
Above 200L: 3000W


3. DON'T waste time choosing complex functions

Just choose a model that you can select more or less temperature (a knob will do just fine)



Another interesting function to save energy is SMART mode, but the price difference is still too high compared to other alternatives.

4. Choose the price range and brand

Don't go for the cheapest nor the most expensive. Choose a trustworthy brand like Ariston, Atlantic, Bosch or trustable whitelabel like Equation from Leroy Merlin. After you have reached 2 or 3 options to choose from, it is time for the final step.


5. Go to a dealer and hire an installer

Go to a dealer like Leroy Merlin, talk to the section staff to help you choose between your 2 or 3 pre-selected models. Focus the decision about energy performance and not on complex features.
Finally, even though we are confident you could install it yourself, just hire an installer to do it (you can book one at Leroy Merlin, for example).
For an installer it is a pretty straight forward job and for you it will be worth the investment.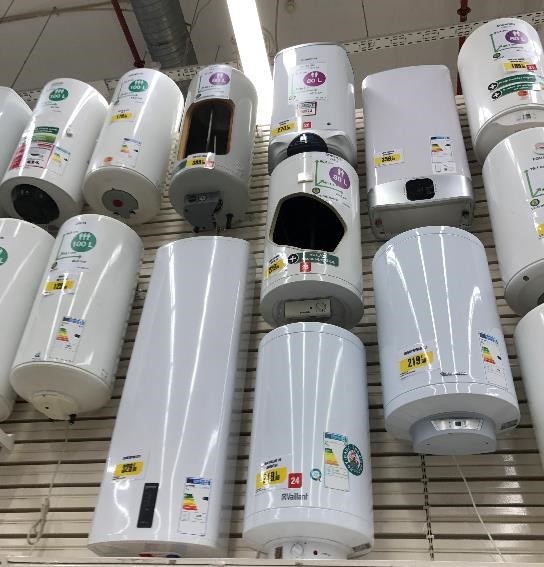 Interested? Want to know more about how to use your electric water heater in order to save money and the environment?
Check other articles below.